Hairdressing salon furniture: the 5 emerging trends
Hairdressing salon furniture is one of the components that make a salon unique; it is the distinguishing feature, it reinforces the message you want to communicate and makes you recognisable. Staying up-to-date with trends is important to create a place that is always on the cutting edge, ready for innovation and style, but also able to make customers feel at home, at ease and guarantee comfort and well-being.
The new trends for furnishing hairdressing salons are highly innovative, slightly influenced by the Covid period we have been going through, but also by a return to simplicity, to natural, eco-sustainable and environmentally friendly materials, such as wood.
From the redefinition of spaces, to the fusion of several materials, to plants in the furnishings, let's see what trends have emerged in hairdressing salon interior design.
5 emerging trends in hairdressing salon furniture
In recent years, hairdressing salon furniture has become an excellent way of communicating one's vision to customers, a way of sharing one's passion for one's profession with people and making them appreciate the style with which one presents oneself.
but that's not all. Indirectly, the furnishings chosen for the salon also help to achieve better results from an economic point of view: light wood shelves that allow a glimpse of the products used are an opportunity to entice people to try them out.
Improving and organising the space using furniture design according to these 5 trends will help you to retain your target customer.
Greater definition of spaces
More distinctly defined spaces with wood panels and patinated materials such as glass or resins are a trend that has emerged in conjunction with covid, which is transformed into a clean, uncluttered style through design and the right placement of hairdressing furniture components.
Traditional and classic designs are a key trend as salons seek to add functionality and comfort to their space. A timeless trend that embodies simple yet versatile elegance with soft lines, delicate decorations and light wood surfaces harmonised with the natural colour touch of plants.
The Beauty Star lines very much reflect this style, a mix of design and comfort, young and modern, but at the same time simple and straightforward.
The return of the tile
Very common in shabby chic hairdressing salon décor, tile is back in fashion. We find it in different materials: resin, terracotta, stoneware; it is a great way to add movement and different textures to walls.
Different shapes, bright colours, glazes, prints and motifs make the tile an interesting element in hairdresser's décor to create a unique and personalised style, perhaps even handmade with hand-painted tiles by local craftsmen.
In addition to being beautiful and useful to create an impactful interior design, tiles are also practical and hygienic: easy to sanitise and keep clean, they are in fact recommended in spaces where wash stations are installed.
Wood, metal and stone: the fusion choices for hairdressing salon interior design
When furnishing the interior of a hairdressing salon, there are guidelines to follow in order to harmonise the environment with people's needs. A trend that is very much in vogue today is mixing together several materials of natural origin such as wood, metals and stone.
A clever combination of materials in hairdressing salon furniture makes the environment unique, personalised, refined and conveys the feeling of a cosy, intimate space where people can meet, chat and get to know each other while they cut their hair or choose their hairstyle.
Brass or iron mixed with wood, stone, leather and glass offer that contemporary, urban, yet retro, clean and elegant style that captures the visual interest of customers and gives the space depth.
A line that follows this trend in hair salon furnishings is the New York New York collection inspired by the Big Apple, its vibrant vintage style mixed with eco-sustainability that offers armchairs, washbasins and technical tables with mirrors and frames in soft, vintage colours.
Environments full of greenery
The trend in hairdressing salon interior design to bring nature and a sense of open air into the salon is becoming very popular, and not only with natural materials such as wood or stone. Vegetables are starting to take centre stage, adding a note of freshness to any interior.
Green fake plants are also popping up in some hairdressing salon décor ideas, a choice that certainly brings colour to rooms with little natural light, but the green of real plants has more charm and gives that extra touch of vitality.
It is not only beauty that makes plants indispensable in a salon, but also the beneficial aspect, as they have a positive impact on the healthiness of the environment by purifying the air and improving the mood.
Personalised walls and walls with prints and phrases
Without exaggeration, wall stickers are a creative way to decorate the walls of a hair salon together with displays, shelves and mirrors. They create visual interest and can also become the subject of photos that can be posted on social media, useful for free promotion of your space.
Quotes and phrases when accompanied by a unique architectural feature or sophisticated design and furnishing elements add character to the environment and help to recreate a modern style such as that of Elisa Rosa in the photo below: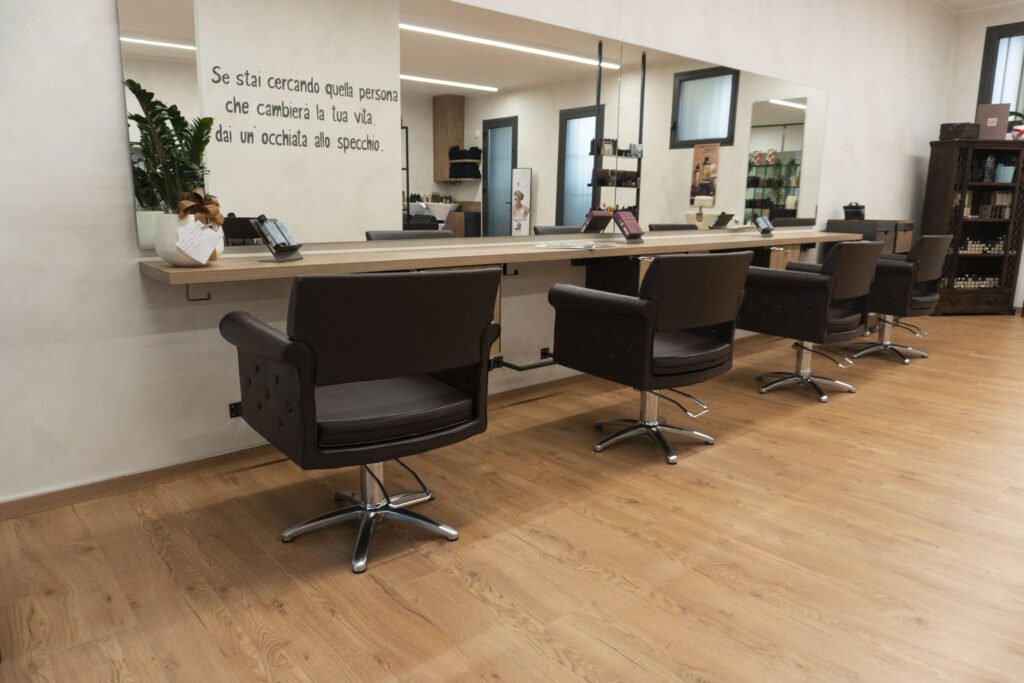 Using wall stickers together with original hairdressing salon furniture makes the environment cosy, conveys confidence, what a person needs to feel comfortable sitting in a hairdresser's chair. In addition, the warm-toned wood finish, the sophistication and simplicity of the black of the supplies and the phrase, the vibrancy of the green of the plant, are the perfect backdrop for a nice selfie to post with the customer.
Complete hair salon furniture: the best choice for your shop
To make your shop spaces comfortable and functional at the same time, we recommend that you look for a complete hairdresser's salon interior so that you can preserve the style you have in mind and the image you want to express without running the risk of no longer finding your chosen design elements with the passage of time.
Hairdressing salon interior design is a constantly evolving sector that takes trends and events into account. Today, the subdivision of a room into several areas is the most suitable solution (also accomplice to the pandemic situation), together with the use of natural eco-sustainable materials (the green turn is now underway) and soft colours accompanied by black or grey.
The most effective solution for those who find themselves furnishing a small hairdressing salon is to play with white, mirrors and hairdressing salon furniture with slim lines and metal components, to give the space more brightness that will make it appear larger.
If you liked the emerging trends in hairdressing salon furniture and our tips, read on.